John Bell
No 5 RAAF Armament Apprentice Course
By Louise Kingston
John Bell was a remarkable human being. He was born in Armadale, Western Australia on 4th December 1935 to Edward and Emma Bell, both descendants of first settlers.
When he was eight he did swimming lessons at Crawley Bay in Perth and witnessed the magnificent Catalina flying boats landing and taking off. This inspired his life long passion for flying boats. He left school at thirteen to travel to the east to join the Air force to learn to fly. Unfortunately during this time the rules changed and he had to learn to fly privately. Such was his determination he earned the money by washing others' uniforms and polishing their boots on his day off. He was finally granted an honourable discharge from the Air force and commenced work for an aerial spraying company in New South Wales. It was difficult and tiresome work and when he was offered a job back in Western Australia he jumped at it. He left to travel back across the Nullarbor, a dirt track in those days, with a pie and a bottle of lemonade in his trusty Willy's jeep. He was forced to stop half way across when the rear springs snapped and spent a week or so on a farm repairing his vehicle.
Back in Western Australia he commenced work for a freight company flying supplies up to the north of the State. By chance he heard of a position spotting whales for the Cheynes Beach Whaling Company in Albany. He started as their first full time pilot in 1961 flying a Cessna 150 the company leased from a local pilot. In 1963, the Whaling Company bought their own plane, a Cessna 173 on floats. It was housed in a hangar on the Kalgan River and was a familiar site to the locals taking off each morning about daybreak to travel the forty miles to the edge of the continental shelf to join the company's three chasers. In 1961, John was involved in a rescue of one of the Chasers' skippers', Ches Stubbs, who had lost the lower part of his leg which had been caught in the rope attached to the harpoon. John, in rough seas, landed the floatplane and flew Ches back to awaiting help. He received a Bravery Award, presented at Parliament House. Many stories and poems have been written about the event. In 1967, the company changed their type of plane to the more efficient push-pull Cessna 337. It had a much longer range and because of the two motors, floats were not needed giving the pilot better vision. It could also take off from the local airport.
In 1971, with the future of whaling uncertain, John moved to Geraldton to take up a position flying supplies out to the Abrolhos Islands for the cray fishing industry. The hours were exceptionally long and he missed Albany, so when the chance arose to return to Albany and open a museum at the Whaling Station, with some part time spotting, he jumped at it. The first museum, a half-round Nissan hut was opened in 1974. After the station closed in 1978, he and his family continued to operate the museum until he was offered the position of Manager after the Jaycees Community Foundation was given the shell of the Whaling Station in 1980. This proved to be a very successful partnership, with the development of what is now Whaleworld. John was also involved quite ironically in whale spotting surveys for the Western Australian Government. One of the last chasers, the Cheynes IV, which is a formidable site as you approach Whaleworld, is testament to John's determination. He was told that no amount of money in the world would be enough to shift it, but he designed a plan that was not only cheap, but also very simple.
He also collected wartime aircraft, which were housed at Whaleworld. His ultimate dream was to fly passengers up the West Australian coast to Ningaloo Reef in his Catalina.
His life was cut tragically short on March 13th, 1996 when his Cessna 337 crashed at Manypeaks, east of Albany whilst searching for drugs.
John Bell was my father and I am very proud of the legacy he has left for the people of Western Australia.
Vale John Bell taken from the Wale World Website
http://www.whaleworld.org/About_Whale_World/John_Bell/ 
Submitted by Evan Williams via Rob Brett 25/6/2012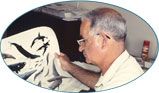 John Bell was the model for what they call "a quiet achiever".
A third of a century ago he came to Frenchman Bay as the Cheynes Beach Whaling Company's first full time pilot to do one of the things he loved most - flying - a career he had formally commenced at age 16. His aerial exploits were legendary and he received an award for bravery for successfully rescuing the skipper of one of the whalechasers, Mr. Ches Stubbs, who lost a leg in a harpooning accident at sea.
In 1974 John and his wife Jill opened a small whaling museum in a Nissan Hut near the present Whale World entrance complex. He traveled Australia in search of whale relics to fill their new museum before the curtain finally came down on a colourful part of this nation's history with the company's final catch in November 1978.
Only a few months later, fate took a hand when what remained of the old Whaling Station was donated to The Jaycees Community Foundation Inc. by the Green family. From Boxing Day 1980, John and Jill continued their seven day a week commitment to the Whaling Station site but as Managers of Whale World - and so began a unique, 15 year partnership with the Foundation.
Whale World was a shared vision that John made a reality - a vision to preserve the remnants of Australia's first industry for the people of tomorrow - An impossible dream - only made possible by his innovation, determination and dedication.
It was never going to be easy - and it never was !
Many scoffed at the grand plan for Whale World but under John, it did become a reality.
Never a complaint, never any hue and cry - so efficient that it was easy to leave it all to John because it couldn't be in safer hands.
John could make or do things no one else would dare to tackle. The beaching of the Cheynes IV was one such problem he solved when nobody would tender for the job. The relocation of the ship is testimony to his ingenuity and determination - unfortunately he will oversee the ongoing development of Whale World from a more celestial place.
One of his proud but final duties was to supervise another milestone by presenting a special plaque to Whale World's one millionth visitor.
In the years leading up to his passing, his concern at the deterioration of the buildings and particularly the Cheynes IV was shared - although his frustration at the decline he was witnessing on a daily basis was never really appreciated.
Ironically, the basis of "The Whale World Vision," the first draft of a proposed five year restoration, development and marketing plan to see Whale World into the 21st century, arrived on his desk the day he made his last fateful flight. Tragically, John died in a light aircraft accident, south east of Albany on March 13, 1996, doing something he loved.
Although John had originally thought of retiring when he turned 60 in December 1995, no one really believed he would. It was expected that he would oversee at least the first stage of the implementation of "The Whale World Vision" and that he would ultimately retreat to the Malcolm Green Aircraft Display - one of his proudest achievements - to indulge his other passion - restoring wartime aircraft and in particular the Catalina.
John was a friend and partner, and while he has gone, he will never be forgotten. His life's work will be properly commemorated as part of the future plans for Whale World and a sheaf of tourism and international awards, and all you see at Whale World today - are his memorial.
"John Bell was a unique Australian whose foresight, courage and determination made the Whale World dream a reality."
Modified from a Eulogy delivered by the Chairman of The Jaycees Community Foundation Inc. at a memorial service held in the Malcolm Green Aircraft Museum at Whale World on 22 March, 1996.