No. 2 Central Reserve Photos
by Rod Farquhar (page updated 24/6/2012)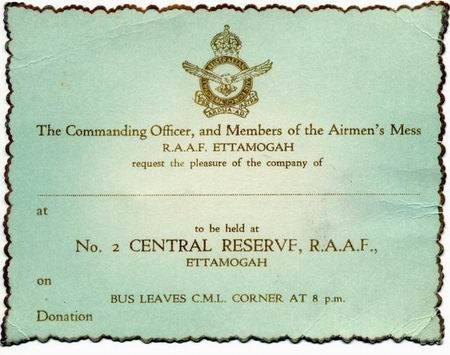 You won't see many of these - an invitation to a function at 2CEN RES Albury 1961
Unit photo 2CENRES Albury 1961

Back L to R   1. Neil Keast, 2. CPL Phil Meares
Centre L to R    6. Rod Farquahar, 9. Warren Sice
 Front L to R   2. FSGT Jack Woods, 10. WO Dick Sharp EE
Missing -  Flt Lt George A B Reynolds IOX
<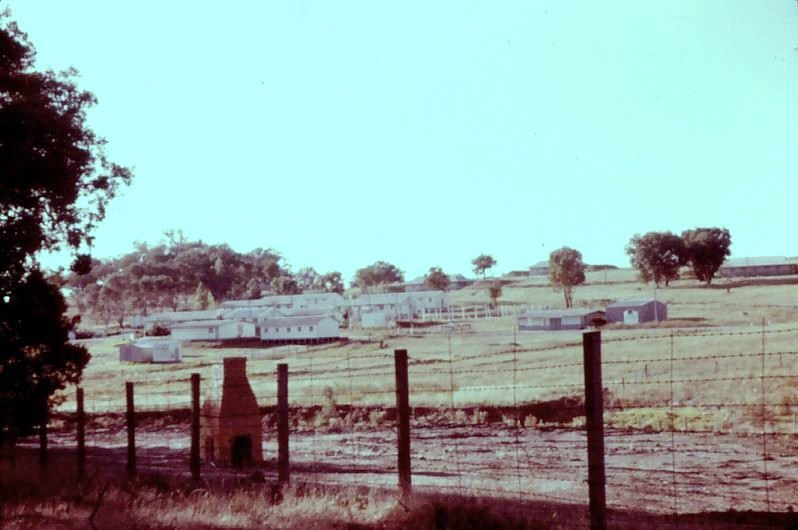 The domestic area at No. 2CR taken in 1962 on the way back to Wagga, it was under the control of the Army by then.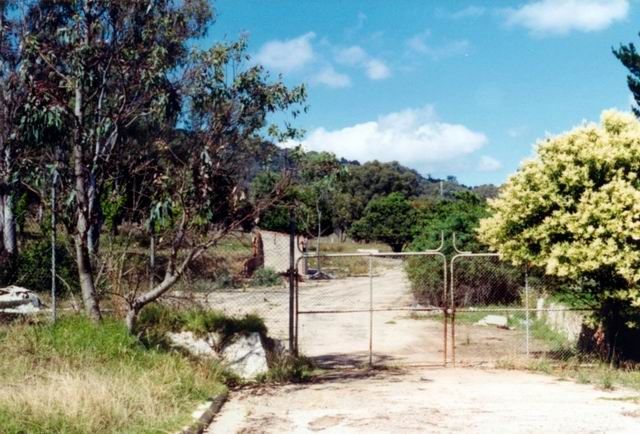 No. 2CR Gate
Motor Transport Section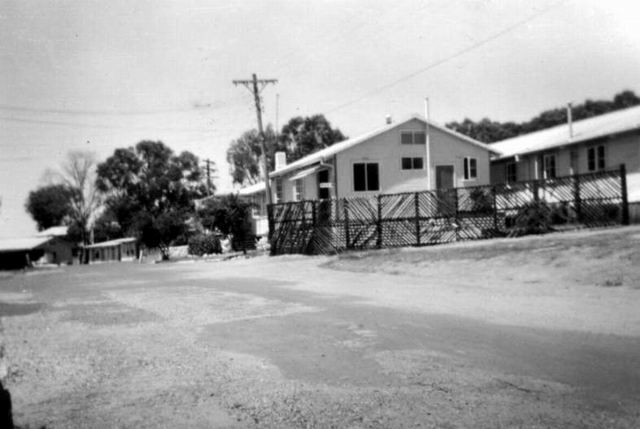 Combined Mess Area from Danger Area Gate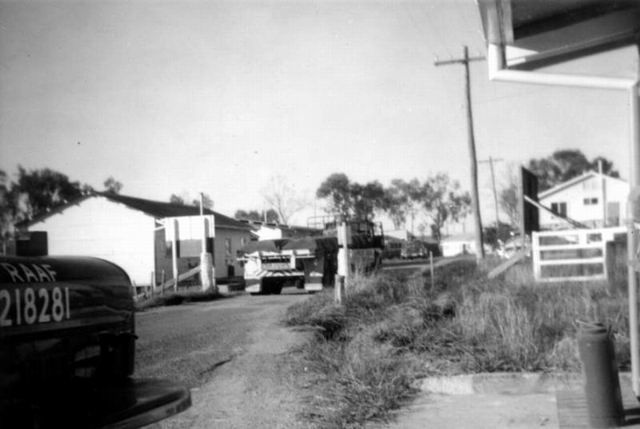 Bombs Leaving for Kingswood
 No2 Central Reserve
(The Ettamogah Country Club)
In Dec 1960 I completed my Armament Mechanics course At RSTT Wagga and after Christmas leave reported for duty at ARDU Laverton, I had been there long enough to purchase a set of wheels and find my way around the base, one Friday morning I was called over to the Orderly Room, given a three page outwards clearance and told to get my arse into gear, you have to report for duty at 2CenRes AM Monday they said.
Well I had never heard of the place but they said it was just outside Albury, I knew where that was, we changed trains there on the way to Rathmines for Rookies, anyway somebody back at the section drew me a mud map how to get there.
I finally finished my clearances and set out late in the day heading north, I drove till I was tired and slept in the car somewhere on the highway. Next morning I found the place and on checking in was given a bed, the place seemed deserted, so having some mates still at Wagga that's where I headed for the rest of the weekend.
For the uninitiated, you head north out of Albury up the Hume Highway about 13-14 clicks then you come to a junction and the Olympic Way branches off to the left for Wagga. Well after you turn onto this road if you look up at the crest of the hills you can just see the entrances to three underground storage bunkers and a bit further on is a dirt track leading up over the hill, crest the rise and you're there.
The domestic area is quite small, just a wide bitumen road that gets even wider in the middle , no more than 100Mtrs. long and ends at the danger area gate. Both side of the road are various buildings and the combined Mess, on a higher level behind the mess were the living quarters and rec. hut. There was also three married quarters on the road just outside the gate.
The private vehicle car park was down a little track to the right after the last building and just before you hit the danger area gate. When I got back from Wagga on the Sunday evening it had just gone dark so I drove straight in, and as I was going past the Mess I realised some people were sitting on my right, and what was that bright flickering light? Before I could even get out of my car Lofty the Cpl fireman was yelling at me about driving through the Sunday night movies and the CO wanted my name, not a very auspicious start.
As I said before it was a pretty small unit , the CO was a Sqn. Ldr. Equipo there was another Flt.Lt. Equipo a Flt.Lt. Armo, a few SNCOs and a handful of troops, no more than 25 people all up . Notwithstanding the above, we had a full dress parade every Tuesday, 2 ranks mind you not enough for 3. The parade ground was at the widest part of the road in the middle.
Armament Section consisted of ,
Flt Lt G.A.B.(Sammy The Seal) Reynolds IOX . WO Dick Sharp EE. FSgt Jack Woods 
Cpl Phil Mears. Lac Neal Keast. and myself. Later we were joined by another ex ARDU troop Warren Sice, he was on his way back to Wagga for his Fitters course and only stayed a couple of months.
We had an Lac and Sgt cooks, some mt fitters, a few drivers, some clerks, a steward, Lofty the fireman and the rest were equipos. There were also two civvies who looked after the boiler and did odd jobs.
Most of the stores held there were 500 and 1,000 Lb. M.C. bombs in buildings scattered around the hillside connected by a narrow twisty road. My main job was servicing these bombs, gauging, painting with linseed oil, cleaning suspension lugs etc, not very interesting work. After I finished each bomb it would be stencilled in white EXM ABY 3/61. In 1967 at Phan Rang I came across many of these same bombs as I was preparing them for loading onto the Canberras, but that is another story.
The aim of the whole exercise was to remove all of the explosives to Kingswood (1CAMD) and they soon had a fleet of Dept.of Supp. trucks and drivers carting stores away. 
There was a common kitchen but separate dining rooms for the three messes, and if you were regular with your timing you could walk in and have your breakfast just coming off of the stove ready for you , the service was top rate. If you caught a fish or shot a rabbit or picked mushrooms they would be cooked for you, no probs. It wasn't called the Ettamogah Country Club for nothing, the name came from the railway siding out in the paddock near the Wagga turn off. Yes boys and girls Ken Maynard came from these parts and all the strange sounding names in Ned and His Neddies are real places.(What? You never heard of him? Ask your Mum and Dad about the cartoons in the Australasian Post). Nowdays of course there is an Ettamogah Pub up the road aways but it's not the real thing for me.
Duties came around pretty quick, troops did guard/switch operator, Cpls worked the Airmens bar and SNCOs/ Officers did Duty Officer. The unit had a manual switchboard located in the admin. building just inside the gate, and on your duty day you manned the switch when the clerks went to lunch and took over at standdown, you also locked the gate at sundown and logged people in and out .You could go to bed when everything was quiet but you switched the phone through to your room in the guard house opposite. If someone was going to be late coming back in (often) you would arrange to hide the key somewhere so they didn't have to wake you. This worked fine but sometimes the CO who lived in one of the MQs just outside the gate would spot someone getting in late and check the log first thing in the morning, then it was work to rule for awhile till he calmed down.
Flt Lt Reynolds had a bit of a reputation as a hard man, (he was) but I got on OK with him, he used to let me work Saturdays to get time in lieu so I could have long weekends off to come home to S.A. to see my girlfriend. Once most of the bombs were gone, he used to take me with him as his gopher, he was doing all sorts of interesting stuff with demolition like cracking open HE rocket heads without setting them off and working out the best way to blow up derelict explosives. I learnt a lot about explosives from that. 
One of my worst jobs was the breaking down of 2,000 rounds of low velocity ADEN ammo.
I had a foot operated jig to separate the projectile from the case, then I would tip the propellant into a bin with water in it, fire the cap with a car battery, all this in a little tin shed with no ear protection. It took me about a week to do and I had a severe case of Quasimodo Itis after that. I've still got it.
After I had finished it was time to burn the propellant, 2 big bins full, we took it over to the demolition area and tipped it out in a big heap with a long trail to light it all up. Phil and I stood off in the jeep while Dick Sharp lit the trail, because it was wet it would only burn for a bit then splutter out, each time the trail got shorter, finally it took off but Dick thought it would go out again, no such luck, as soon as he saw it was away he started to run back to the jeep but he only got half way before the pile went up ,what a flare , we could feel the heat from where we were so it must have been a bit uncomfortable for him.
One night Phil was on duty in the Airman's bar, and as the evening wore on talk got around to shooting, we decided to do a bit of spotlighting after the bar closed. Phil borrowed the jeep and keys to the danger area from the duty officer,( security was a bit slack). Neal was in the passenger seat with a 22, I was standing on the back bumper leaning on the hood with a double barrel 12guage,  and Phil driving, away we went. During a hot pursuit Phil decided to take a short cut through the little dry creek that traversed the area, if it had been light and if we had been sober we would have had second thoughts. Anyway down we went, the front bumper dug in and the jeep stopped dead, but I kept going forward, I almost bent the hood bow up to the next one (Next day I had a bruise from armpit to armpit). He got it moving again and started to climb the bank on the other side, by this time I had fallen off of the back and was lying on the ground laughing my head off. Wouldn't you know it, he got half way up the other side, stalled, then let it roll down backwards again, almost running over me in the process. I ended up half under the back of the jeep, what fun we had.
On another occasion the old saying "The devil makes work for idle hands" was well demonstrated. Phil had made a small zip gun using a nut welded to a bit of scrap steel, the barrel was a short bolt bored out on the lathe, and a hammer pivoted on the scrap, striking the 22 round through a slot cut in the nut, it was powered by a couple of rubber bands, just proof of concept you understand. Away we went to a remote spot for firing trials. Phil put a few rounds through it but the accuracy was not up to expectation, longer barrel he said. Back to the workshop, new longer barrel made, firing trials resumed .The second shot with the new barrel seemed louder than before, and Phil was jumping about holding onto his hand, it seemed the extra pressure was too much for the gun and it was "Reduced to components".
We had a lot of TX stores to dispose of , and one job was the blowing up of a several dozen Mk36 hand grenades. They came in boxes, the first blow was one box, emptied out and with a slab of TNT in the middle, a CE pellet on the end of some primacord, and a length of blue sump fuse with a det. to get it all started. The nasty bits were covered with dirt in the bottom of a previous crater to prevent shrapnel, everything worked as advertised. We did several blows like this, but then a tally of remaining grenades against available TNT meant upping the ante a bit. First two boxes, then three, the last one was five boxes, bad idea, bits of grenade all over the countryside. 
The final offering was a big burn, there was a burning trench, about 30metres long, a metre wide and, 300mm deep, the whole thing was lined with steel plate. We filled it up with every kind of ammunition and flares you can think of, hundreds of signal cartridges. Across the top we laid rocket motor boxes full of sand to keep everything in place, some puffs powder and safety fuse, light the blue touch paper and retire. No shit! 4 seconds to go from one end to the other, talk about 4th of July, the ground was still hot next day.
Well they say all good things must come to an end , and soon all the explosives were shipped out or destroyed, people started to be posted out, on the third of July 1961 I packed my kit and headed south again, this time to East Sale.
In January 1995 I was on holiday at Mount Beauty and did a day trip back to Albury for a look at the old place, there was nothing left , just the old gate ,the road overgrown and a few piles of rubble, ( see colour pic ) "Ah paradise lost"
Cheers all. 
Rod Farquhar.